UMC HAS LAUNCHED A NEW OFFLINE APP in partnership with the pharmacovigilance team at WHO for reporting possible side effects from vaccines.
Directly connected to UMC's VigiFlow data management system, the VigiMobile app makes it possible for immunisation field workers to collect AEFI reports electronically on their smartphones, tablets, or laptops, with or without an internet connection.
VACCINE SAFETY SURVEILLANCE IS ESSENTIAL to the success of immunisation programmes. If safety concerns around vaccines aren't dealt with rapidly and correctly, they can dent people's confidence in vaccines and undermine vaccination programmes. But getting data to decision-makers quickly so potential safety issues can be investigated, understood, and managed is not always easy. According to WHO, there are several countries without an effective system for monitoring vaccine safety.
"Effective AEFI reporting is the first step in making sure vaccines are being safely administered," says Dr Madhava Ram Balakrishnan, Medical Officer Vaccine Safety at WHO. "In VigiMobile and VigiFlow for AEFI, we have a frontline system for monitoring vaccine safety right in the hands of the vaccinator and their supervisors. Such tools are particularly vital in countries where large parts of the population live in remote areas and essential to ensure the safety of vaccination programmes and see whether further public health or regulatory actions are needed."
IN MANY COUNTRIES VACCINE MONITORING and reporting is often paper-based due to traditional work practices, limited internet access, or high internet costs. This can delay information sharing and impact decision-making at district or state level where events or clusters of events may trigger more in-depth investigations.
Jenny Jansson Liikamaa, portfolio manager of pharmacovigilance offerings at UMC, says because the app is uniquely designed to capture structured vaccination and patient location data at time of reporting, VigiMobile can help investigators to pinpoint clusters of adverse events and make informed decisions based on actionable insights.
"Using their smartphone, tablet or laptop, immunisation workers can capture events as soon as they happen even when they are offline and queue them for sending later. They now have the confidence that in the unfortunate case of a rare serious adverse event, rapid reporting is possible in a few minutes. This reduces the risk of vital information being lost in the field and enables officials to respond faster to a serious event that demands urgent investigation and a rapid response."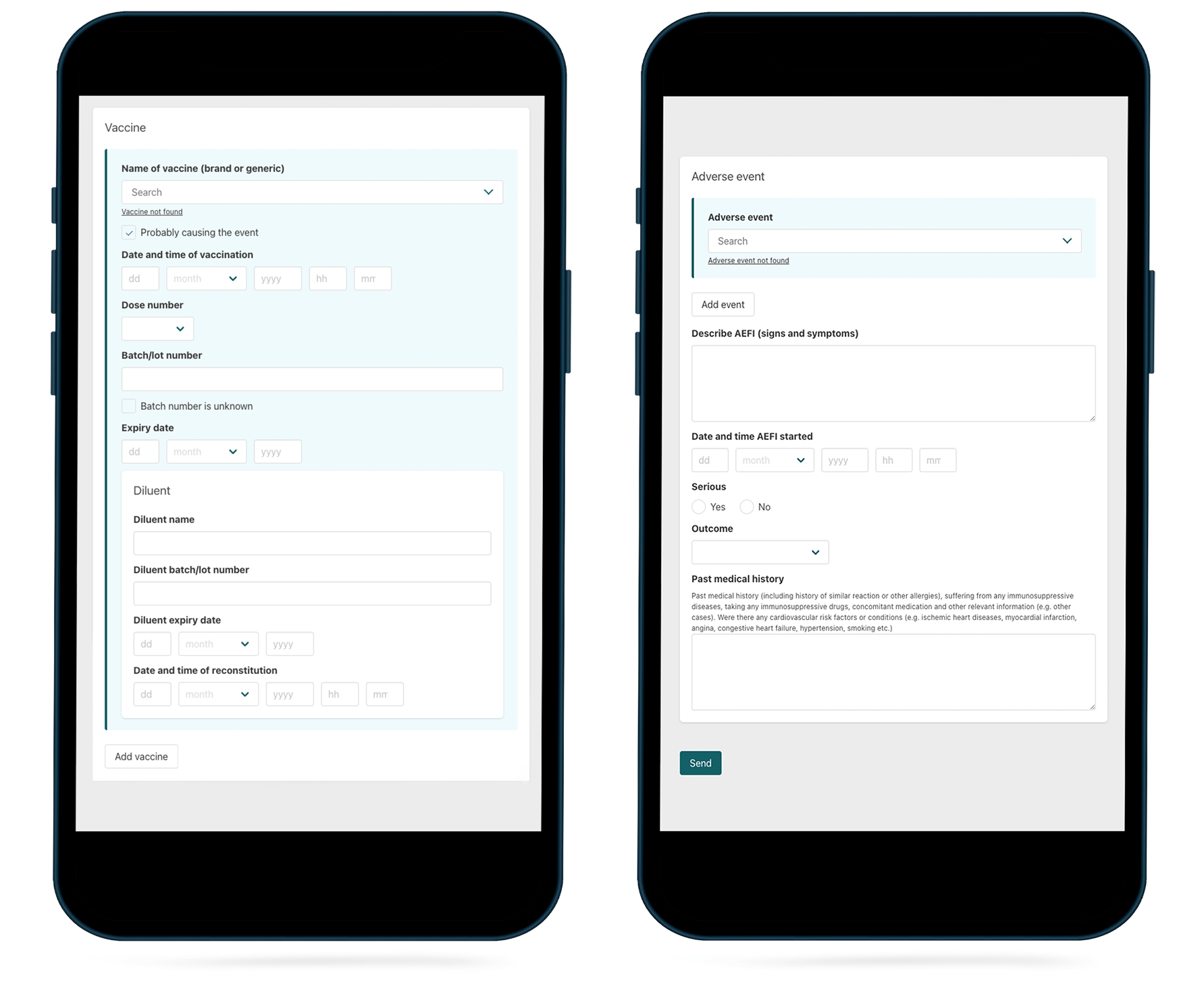 AS REPORTED PREVIOUSLY, UMC adapted VigiFlow to collect and analyse AEFI data during the coronavirus pandemic. Working closely with WHO, it set out to help national immunisation programmes and regulatory authorities meet the new national guidelines around vaccine surveillance and safety monitoring.
Before then VigiFlow had mainly been used by countries in the WHO Programme for International Drug Monitoring to collect and analyse reports of potential side effects from drugs. Now it has been customised to do the same for vaccines, with UMC successfully expanding its expertise in ICSR management to AEFI data.
WITH VIGIMOBILE, VIGIFLOW, and VigiFlow for AEFI, UMC can offer national immunisation programmes, national regulatory authorities, and national pharmacovigilance centres a one-stop shop for all their vaccine surveillance needs. This includes AEFI data collection, collation and identification of related safety events, and global information sharing.
Both VigiMobile and VigiFlow for AEFI use WHO's standard AEFI reporting form with the 25 core variables recommended by WHO for collecting AEFI data.
As soon as reports have been sent to VigiFlow, immunisation programmes can also share them with WHO's global database of adverse event reports.
Zimbabwe is the first country to roll out the app, with national immunisation programmes set to start using VigiMobile this month.
For more information contact vigibase@who-umc.org.
Read more
AEFI reporting in the palm of your hand, anytime, anywhere
Listen up!
Why we need vaccine surveillance systems, Drug Safety Matters podcast.